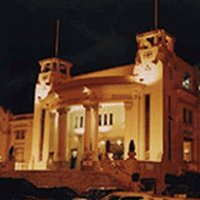 Casino Cheats hit Casino Vina Del Mar in front of my eyes!
As my South American casino cheat tour continues, I am now getting ready to leave Valparaiso, Chile, a pretty resort area with a very VULNERABLE casino. Walking through the roulette pit last night (roulette is the most popular game here, which would have been much to my liking had I still been in business popping in monster roulette moves, I stumbled upon what appeared to be a Greek
pastposting team
doing their thing on a $50-maximum-inside-bet wheel. They were not classic pastposters as my team had been but rather skilled at laying down late losing bets that are supposed to get caught by the dealer while their second late bet gets by unnoticed. Nothing new about the move; it´s been overdone in both Europe and the United States, but as South American casinos are generally a bit behind, the team won about $800 in the hour and a half I watched.
Of course they had no idea who I was, though I did catch a few of their suspicious eyes! Tomorrow I will report from my next South American destination.